I've been making a lot of noise lately about the fact that price action analysis without indicators was  the best  way to succeed as a forex trader. I'm sure some of you are  muttering yourselves  saying "That's all well and good but can you show  us how?" Sure I will. I'm going to use a two part series to  show you how to trade price action without the indicators, starting with Part I today.  Let me let you in on a little secret. THERE IS NO SUCH THING AS A SILVER BULLET FOR PRICE ACTION SUCCESS. Those nasty indicators and software will drive you to the point of destruction.
And what happens when the silver bullet fails to fire on all cylinders? You find yourself looking for the next quick fix.  In so doing, you waste so much energy looking for the next quick fix which can do better than the previous  failure. I expect someone hooked on steroids to behave this way, not a forex trader armed with trading information at his disposal. At some point you have to tell yourself " I have to learn how to trade without those nasty indicators." You can't run away from this fact. That's the only way you are going prosper as a forex trader.
If you think  I am putting together a complicated puzzle, keep your mind at ease.  I'm not going to rework the laws of gravity here. All I'm going to do is show you step by step how to trade with price action without the so-called help of those indicators.
So onward we go: First
Read The Price Chart
It may sound simplistic but you must be able to read the price chart if you want to prosper as a price action trader. And when I say read the chart, I'm not saying read the chart like you're reading a Steven King novel. You should be able to deduce what each candlestick is telling you. All you are doing here is analyzing thecombination of higher highs(HH) higher lows(HL) on the uptrend and lower highs(LH) and lower lows(LL)  for the downtrend.
Let's take a look at a price action  illustration using the EUR/USD  chart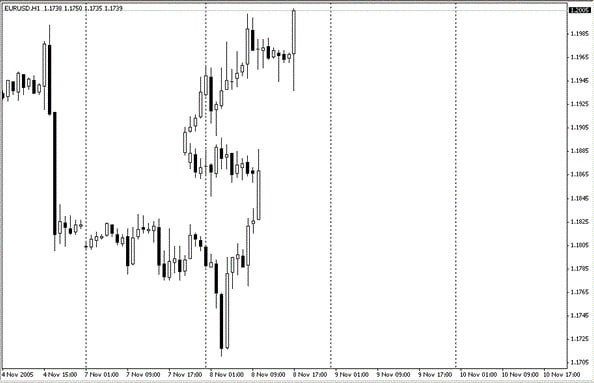 Take a look  at the upward trend .  HL  start from the bottom of the chart and end up  with HH  further up.  This suggests a strong surge by the bulls.   On the left hand side you have LH  and LL  taking shape. This suggests a  strong slalom run down the slopes by the bears.
What we are doing here is analyzing the highs and lows of both the uptrend and the downtrend. Now imaging throwing these indicators on the screen. What you will see is just one ugly looking  mishmash that will drive you insane.
Also by identifying the high and low points on the price chart, you are laying the building blocks for your price chart analysis. In so doing you avoid the fatal mistake of overlooking the layout of the price action which results in your failure when the market is trending or which direction the market is blowing to.
If you want to know what the candlesticks are trying to tell you  refer to Ten Candlestick Patterns You Need To Know
Identify The Trend
You know the  saying "The Trend Is Your Best Friend." Well your job is to identify  the trend. Surprisingly this is one  rope that beginning traders keep tripping over.  They keep asking over and over again"Well how do I Identify the trend?" Consequently, they look to the silver bullet indicators to do their bidding.
Well, news flash! These indicators  don't have the capacity to think rationally either. They are only as good as their creators can make them. You, on the other hand have the capacity to make rational decisions as far as identifying the trend goes.
Just follow these two simple formulas for identifying the trend. A bullish trend = higher highs and higher lows,while a bearish trend = lower highs and lower lows. Now let me show you two price action  illustrations of these two formulas: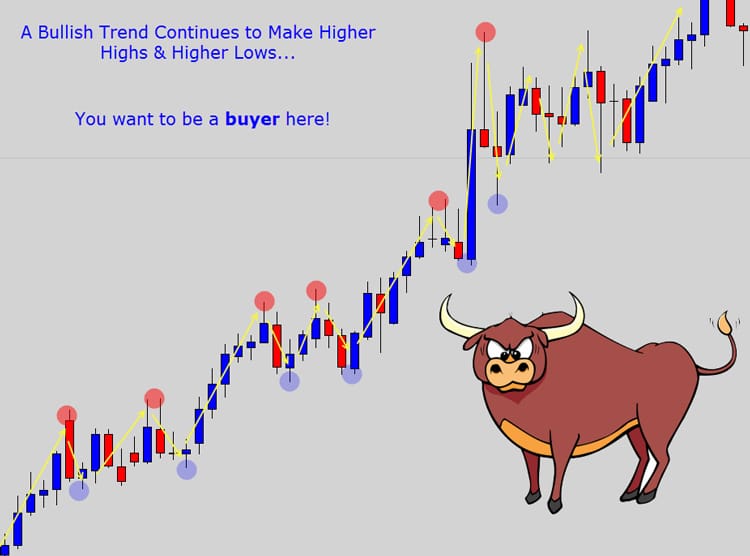 This is what a bullish trend looks like. The higher lows start from the bottom  with the higher highs taken shape as the price of the currency as the price strengthens.So when you see such a trend, your instinct to buy should immediately kick in. Make your entry when the price is low such that as he price reaches the HH barrier, your profit margin increases.   Pretty straight forward isn't it?
You don't need  any indicator to tell you that.If you can apply these  simple formula,you should be able to identify such  a trend like clock work.
Now let's take a look at what the bearish trend looks like.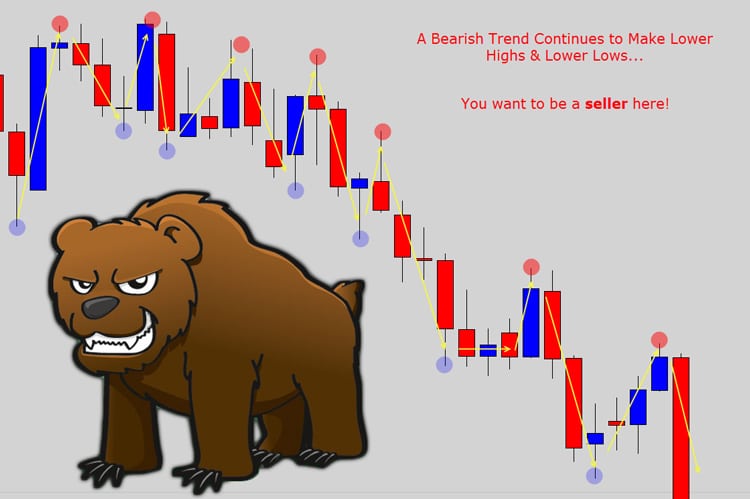 Now the bearish trend is the complete opposite. The downward slope suggests the sellers have seized the initiative from the sellers. The lower highs start from up top with the lower lows taken shape as the price drops further. Whenever you see a slalom race like this, your instinct to sell should immediately kick in.
You put in your entry to sell at the LH point(lower high). You start sellin You don't need to think too much on his. And you CERTAINLY do not need some fancy indicator to think for you on this issue either.
Look, identifying a market trend is like solving  a crossword puzzle. Just map out the highs and lows and connect them as indicated on the above graphic,and everything becomes crystal clear. But be very careful that you do not misread the trend or make the wrong entry. Do that,and you will be severely burnt -not to mention put a major dent on your trading account.
Remember this simple phrase: Buy low and sell high. Just wait for price to pull back into swing lows or swing highs and then make your entry trade.
If you want to dig deep into identifying the trend, read up on Trade Trends With Price Action Analysis
Now next up is:
Spotting The Range Market
Spotting the range market can be hair raising sometimes. Range markets or sideways markets, can blow hot and cold sometimes. It's a case of "Now you see me now you don't."
You see ranging markets take shape when price is trapped between two key levels.  This happens when there is a war of attrition between the bulls(buyers) and the bears(sellers). Consequently, the trend is skidding all over the place with highs and lows forming at the same horizontal level. Let's take a look at what I mean,using the graphic below.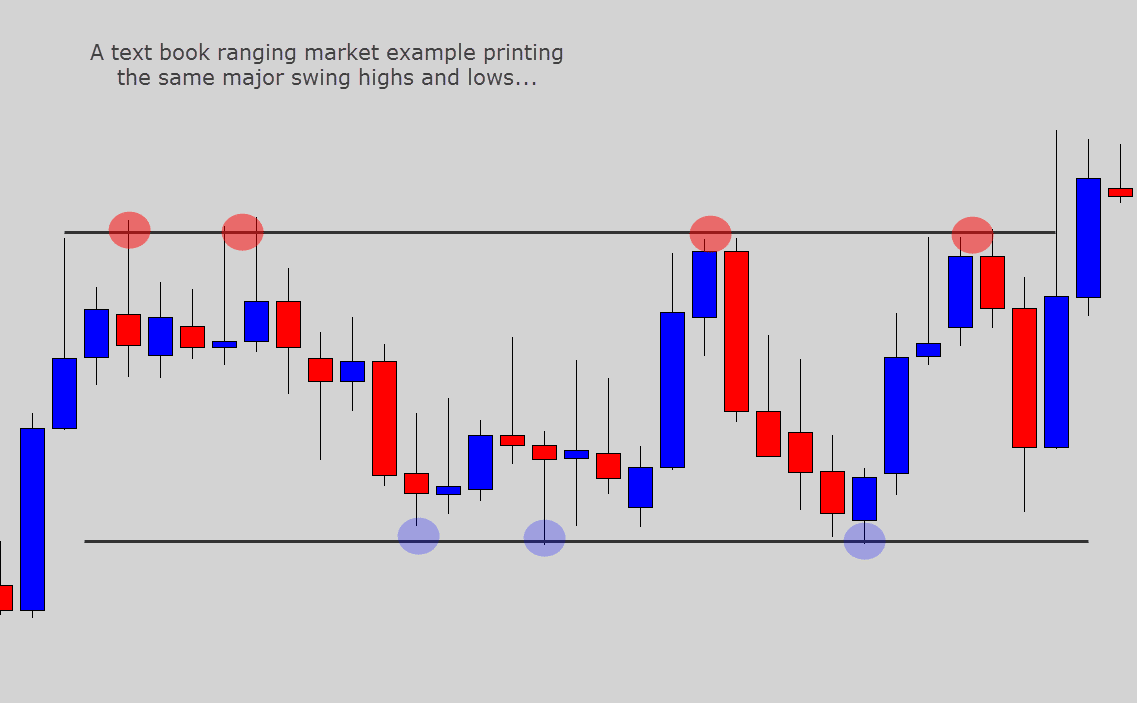 As you can see, this is one huge mess staring us in the face. However,this scenario rarely occurs in the markets-unless for some reason they run out of stamina.  If you wanna identify the range,just mark out the highs and lows within the range. Let's see how a real range looks like.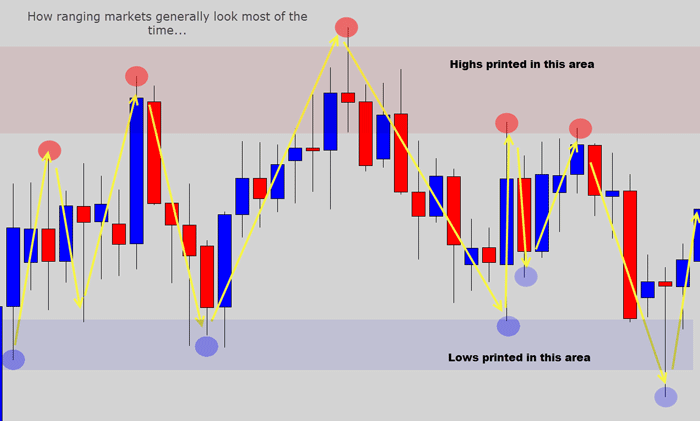 Now this is how the ranging market  looks like. As you can see,there are no clearly defined highs and lows. This of course makes looking for reversal  trades look like you're going on a treasure hunt. There is so much noise around the boundaries that you can be tricked into jumping into the deep end and letting the chips fall where they may. And when you do take that jump, nine times out of ten,you risk getting your fingers burnt.
In fact, I'd strongly suggest that you  do not jump into the fray. Why? because there no trades to be found in this market structure. It's nothing but noise. You have loud music  just shaking the speakers. Unless the ranges are clearly defined, and the trading opportunities are visible(Which are quite rare), dont bother taking that jump.
If you want to get clarity on range markets look up Forex Market Goes Sideways
Don't Bother Trading A Senseless Market
When I say don't bother trading a senseless market I'm merely saying don't enter on a trend that doesn't make any sense. Do that,and that and you will incur a huge black hole in your trading account. Some charts look so out of whack that they're not worth the aggravation and hair loss.If they don't make any sense to you, don't bother filling your market order. Let me show what I'm talking about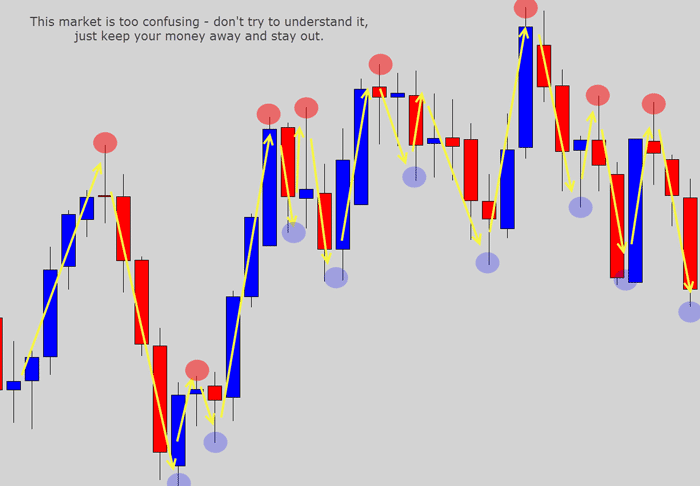 There is absolutely no rhyme nor reason to this chaos.Even after marking out the highs and lows, it still doesn't make any sense. It's basically a dead end. It does not make any sense trying to outwit the market in this situation. If you do, the market will bite you real hard like a hungry rottweiler. Just wait for the mist to clear up and then enter the market with all the gusto that you can master.
You don't need to feel bad if you can't make sense out of the chaos. It is what it is on the market sometimes. If the opportunities aren't there, don't force the issue.
That's  a wrap for " How To Trade With Price Action Without The Indicators  – The Real Truth "  Next week we will continue with Part II of the discussion dealing with topics such as  how to Identify turning points Waiting for a trade signal, e.t.c
Til next time take care
Open Live  Forex Trading Account .