If you want to  a successful forex trader , you most certainly need to get yourself  a forex trading plan. It's as simple as that. Soldiers draw up a battle plan before going to war right? Well  forex trading, s is no different. You need to draw up a plan as to how you are going to attack the price action.
You absolutely do not want to dive in head first into the lion's den called the forex market without any weapons. The forex market is very unforgiving towards naive rookies who think they can just wing it at the snap of their fingers.  You must get into the market, knowing what you're looking for,what your objective is and how you intend on accomplishing your trading goals.
So what are we going to do? We will first define what a forex trading plan is and why you need one. Then we look at the body parts  of a trading plan.And finally we'll look at an example of a trading plan.
First off:
What exactly Is A Forex Trading Plan?
Well a forex trading plan is nothing more than a template for trading the forex markets.  Think of your template as a checklist containing  a step by step sequence of your trades which act as a guide to trading the forex markets. In other words, your trading plan should define in plain English, your general trading goals as a trader and a clear checklist of how you intend to accomplish those goals.
A note of caution though: Make sure your trading plan does not balloon into a telephone directory. If you're hinging your trading plan on price action trading, make sure your trading plan is exact and to the point. You don't want to beat around the bush too much on your trading plan to the point where you are so confused like a deer caught in the head lights. Make your trading plan so precise that you're able to capture all aspects of your plan. You can also include graphics of your trading strategy as part of your plan. This should go a long way in bringing some clarity to your direction of your trading plan.
I guess the most appropriate question will be:
Why Do I Need Forex  Trading Plan?
Basically you need a forex trading plan to keep you out of trouble. You need a forex trading plan to help you keep your emotions in check. The last thing you want to do is to wing it every chance you get,like you're gambling in a casino in Las Vegas.   If you do not follow a pre-defined trading plan you will end up blowing up your account  the same way a volcano throws up molten lava.
In other words, you will be trading with your emotions instead of your brain. And whenever you lose a trade,you end up jumping back into the market to make up for lost cash. Trust me it's happened to me before, and it's not  fun at all.
Probably the most important reason for having a trading plan  is to stay out of trouble.  You know, the market can be very unpredictable and it can do a nasty 360 on you. So unless your trading edge is present,don't even bother taking the plunge. Even more important a forex trading plan will help cut down on losing trades and  spike(improve) your winning percentage.
Instead of trading like a gambler,how about trading like a sharp shooter? You leave your emotions under your sleeve and put on your thinking cap through your trading plan.Even more important with your trading plan there will be no need to make appearance on the market on a daily basis. You can trade less with high probability trades and make substantive profits using higher time frames.
Now that we've covered  the what and why of a trading plan let's look at:
Body Parts  of a Trading Plan
Establish your short term and long-term trading goals
Lay out your trading strategy and how you'll go about analyzing and trading the markets
State clearly what your money management strategy is all about. You may want to include your risk and reward per trade, how much money you can afford to lose, and how much money you plan on withdrawing from your trading account
other additives you could include are your preferred trading pairs, trading time, e.t.c.
Now let mes show you an example of what a forex trading plan looks
As you can see everything has been labelled nicely from the trading system(strategy) all the way down to the trading log.  You'll most definitely need to do something similar if you want to  reap the harvest of your trades. Trading like a gambler will definitely lead you into Forex Armageddon
Now let's break the strategy even further:
Is The Market Trending or Consolidating  ?
First establish where the market is trending or consolidating. If the market is trending  look out for higher highs and higher lows in the uptrend and lower highs and lower lows in the downtrend. If the market is consolidating, it means the market is trapped between the support and resistance levels.
You have a situation where there is a war of attrition between the bulls(buyers) and the bears(sellers). You should have graphics of both conditions as part of your trend so you know what you're looking for  come time to  put in a trade.
Market Trend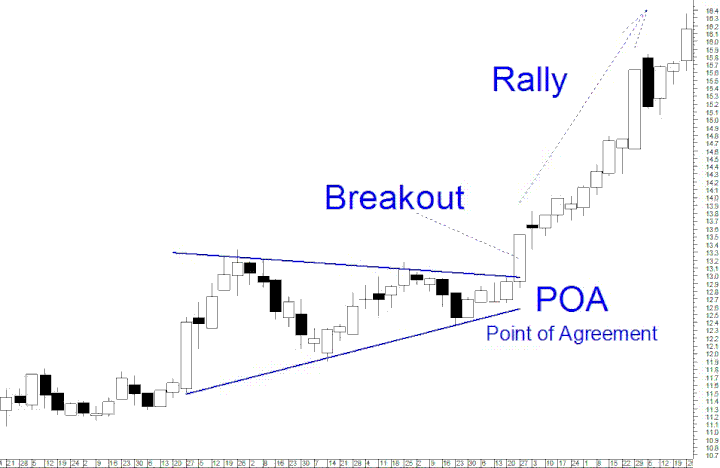 Consolidating Market
If you need help with identifying trends look up  Trade Trends Using Price Action . Analysis . If you're having difficulty with consolidating markets look at Forex Market Goes Sideways.
Next we have:
Indicate Your Support and Resistance Levels On The Charts
Once you have established your support and resistance levels you then indicate these levels on the price charts.  These levels will form at the confluent area that you watch for your price action strategy to roll out where you trade in the direction of the dominant trend, Or if it's a sideways market, towards the opposite end of the range.
But first you have to draw these levels though before indicating them. It'll be a bit strange doing this backwards. Wouldn't it? Let's take look at how it's done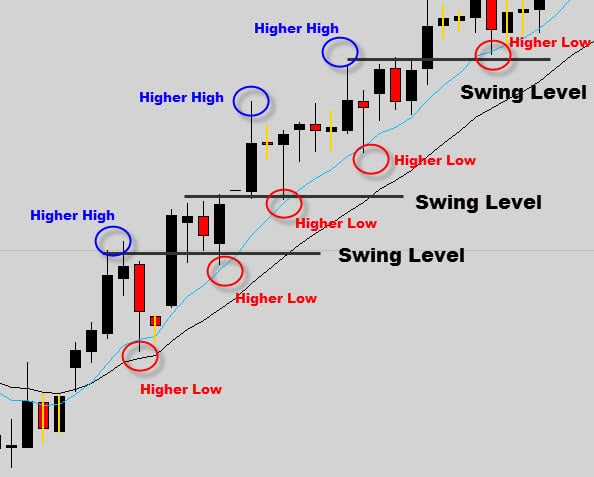 See how the support and resistance levels have been drawn and labelled.In so doing you know what you're looking for when you enter the market. if these levels are not evident, don't bother throwing your hat in the ring. Need helpwith support and resistance levels, Pay a visit to Identify Support and Resistance Levels With Price Action Analysis.
Look For Price Signals at Confluent Levels
You absolutely need to look for price signals at confluent levels as part of your trading plan. You need o know exactly what price action strategies you are seeking before you even put pen to paper to start your  building your trading plan. And just as I indicated earlier, you should have images of all the  setups that you intend on incorporating into your trading plan. . If you are confused about confluence levels,  I'll strongly suggest you look up Something Called Confluence.  If you are even more disoriented as far as price signals go, look up  Price Signals:Weeding The Chaff from The Good.
Let's take look at a price signal  at a pin bar set up
As you can see there are multiple confluent levels indicating a price signal at the  level of support.  The bulls have latched on to this development with salivating intent as evident by the surge up the mountains. If you have this kind of setup in your trading plan you'll be worth a million dollars.
Next up is
Risk Management
You need to know to put a premium on risk management as part of your trading plan. First off, you need to decide the safest spot to place your stop loss in your trade setup. This absolutely crucial because  where you place the stop loss  could be the difference between preserving your account and blowing your account like volcanic ash.
Also you need to decide how much money you can afford to part with without shedding crocodile tears when the market   does a 360 against your trading position.  You do not want to risk money you need to pay your kids tuition fees. That'll be insane.But if it's disposable cash lying around doing nothing, knock yourself out.
Even more important,you need to include an exit strategy in your trading plan. Once you hit your Take Profit target you have to seriously consider high tailing(orexiting) out of the trade. Greed make seem good for a season.But if you get too greedy, the market will make you pay dearly.As part of your exit strategy, consider which risk reward ratio you want to adopt.Conventional wisdom suggests  that a 1:2 reward will be the best option.
That's  a wrap for "  Get Yourself A Forex Trading Plan If You Want To Be A Successful Forex Trader ."  Hopefully this post has convinced you about the importance of having a trading plan in place before taking the plunge into the market.
Like I said earlier, it does not make sense going to war without a strategy. You  must have a well thought out plan before hitting the battle field. Having a trading plan will help you achieve your trading goals faster than most people without a trading plan.
Til next time take care.
Open Live Trading Account
If you're looking to open a live trading account sign up with Exness