At this point of our price action education,  it only makes sense that we talk about the Metatrader 4 Platform. After all, it is the forex trading platform for forex traders.   We're going to learn how to download the Metatrader 4 platform and set it up for  price action trading. Popularly known in some quarters as MT4,  the metatrader 4 platform is a  piece of software used by forex traders and forex brokers.
MT4 is used by these two entities to carry out daily chores such as watch real-time currency prices, open or adjust market orders,  and most importantly, technical and fundamental analysis. At the same time,most brokers use MT4 to reach as broad a trading audience as possible. No wonder  it's so popular among the forex trading community.
Now what makes MT4  so good? It offers a truckload of currency pairs at your disposal. Not only do you have a slew of currency pairs to sample from, but the price action charts are so user-friendly that anybody should be able to spot breakout patterns from them.  There is one hiccup though: You cannot access the MT4 on a website. But you can install the platform on  our or PC in order to access your trades and currency prices.
So what are we going to do?Two things: We'll learn how to open download the MT4 platform and also how to set up the platform for price action analysis and trading.But first,
How Do we Download MT4?
First download and install MT4.exe,  the exec file of the MT4 software, through your forex broker of choice
Then carefully fill in your account details as illustrated the example below.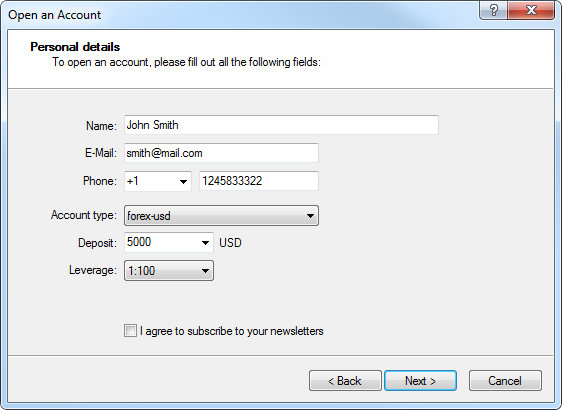 Keep A Record of Your Login Details
It's absolutely crucial that you keep a record your login details before you check out of the registration process.  The last thing you want to do is leave your login details around for some reckless  individual to profit from your login details Failure to do that and you may end up conjuring  new login details.And make sure you select the correct server  while you're at it  This is what your login details should look like below: .
The neat thing about MT4 is that you can open and access multiple forex trading accounts without exiting the platform. Just make sure you don't place your trades in the wrong account. It could cost you dearly.
Now I know a lot of you are itching to  start making money placing your trades. But if this is your first time trading? How about demo trading first?  With a demo account, you get a thorough feel of  your prospective broker's platform without risking your hard earned money.
And unlike a live account you can always add to your virtual capital or open a new demo account  if you accidentally blow out your current demo account or your current demo account expires.Here is what the demo  registration looks  like below
But if you feel you are  ready to take the plunge into the lion's den called the live forex market, don't  let me stop you. By all means go ahead.
Finally:
How Do I Set Up The MT4 Platform for Price Chart Analysis?
First , we are going to cover the main functions of the main windows of MT4. Below is a little screen shot to guide you while I do the explanation
The topmost window is the "Tool Bars". There you will find all kinds of icons that allow you to do all kinds of things including taking lots of short cuts.
Next is the "Chart"window. This pretty much self-explanatory as this is where all the charts are housed.
Next we have the "Market Watch" window in the upper left hand corner of the screen.  This window lists all markets available to your chosen forex broker and gives you all their bid and ask prices in real-time. If you want the platform to reveal all the markets offered by your broker, simply right click within the market watch window and then select"Show All". You will see everything in living colour.
Below the "Market" window we have the "Navigator". The navigator stores your accounts as a variety of indicators and scripts. I wouldn't go near those scripts if I were you.You'd be better off sticking to raw price data and make better sense of the price moves.
And last but not the least we have the "Terminal" window. The terminal contains the following tabs:Trade, Account History, News, Alerts, Mailbox, and Journal. The "trade" tab is more important as you can see your pending and open trades. The account history is made up of your deposits, withdrawals and closed trades. If you want to generate reports of your trading history from your account history, knock yourself out.
Last  but not least
How To Set Up Your Charts For Price Action Trading
Now we are going to set up our charts for price action trading. You can  customize your price charts to reflect your color preferences. .Some prefer white while others are partial to a  black background so they can see everything  clearly on the screen. They don't want the candlesticks being crowded out on the screen. I guess the first question to ask is:
How Do I Open a Chart?
There are three ways to open a price chart. First click on the"File" menu at the very top level of the screen and then click "New Chart". Or you can click on the "Market Watch" window for the specific currency pair that you are interested in and then select "Window." Next up is
How Do I Set Up Chart Properties?
This is  where price action trading begins.First right click on your selected chart and select"Properties." You can find it at the bottom of the menu.To the right of the "colors" tab is the "common" tab. This tab gives you the freedom of choosing or 'unchoosing ' features such as volume, grid, period separators, e.t.c.  They are pretty much self-explanatory. Just get familiar with them.
Next up:
How Do I Save My Template?
Once you have adjusted your color scheme and other chart properties you can save them as a chart template. Now how do we go about this? Click on the "Template" icon and then select"Save Template." Another option would be to right click on the chart,"Select Template," and then "Save Template."  You can also use the "Zoom in or out" icon to fit your vision preferences.
Also  take note of the chart time section listing the time frames  from one minute to one month.(The time frames are abbreviated.So take note.) You'd be better served trading from i hour upwards. Why?  Because these time frames are more profitable and, unlike the lower frames you get a much clearer picture where the market is headed. Moral of the story?Stick with the time frames that works.
Which Price Action Analysis Tools Do I  Add To My Charts?
You'd be better of adding the Moving Averages tool to your charts specifically the 8 and 21 day exponential moving averages(EMA for short). Just click on the "Indicators" icon ,select "Trend" and finally "Moving Averages". You should see the following box below on your screen.
Wanna know another way of adding moving averages?
Just go to "insert" which is the button at the top. Next, click on "indicators" and then "trend" and finally "moving averages, " and the box you see above should show its face. Say you want to set EMA to 8 or 21, then you select "MA Method", then Exponential and then "Apply", which would be your way of closing out.
You can choose whichever colors suits your fancy so long as you can distinguish one EMA  from the other. The last thing we want is utter chaos on the price charts.
Make sure you read up  on We're Moving Averages Part I and Part II
Can I Set Up Four Primary Time Frames In One Profile?
Yes you absolutely can.You can set your  1 hour, 4 hour, daily and weekly time frames in one compressed window. Here is how: open four charts  of the same currency pair and then use the time frame icon to compress them as 1 hour 4 hour, daily and weekly. Just make your way to the Windows menu at the top of the tool bar and select  either"Tile Horizontally" or "Tile Vertically" Either way your chart windows will look the same  when you have four charts.
Now Once you have your time frames set up, you then go  to your "File Menu." Alternatively, you can click on the "Profiles" icon and save your window setup as a profile.
Is It Possible To Analyze Multiple Markets  At The Speed of Light?
Well,not quite. But you can analyze multiple markets close enough to Usain Bolt speed. What I'm trying to say is that you can analyze as many markets as possible, quickly at the same time.  Just open multiple windows, and  you will find at the bottom of the platform , tabs that allow you to open up price charts for various currency pairs and analyze or edit them.
You can pull up a chart from any of the tabs at the bottom and quickly change the time frame and template icons in the previous tool bar we just mentioned. These tabs help you get a quick view of so many markets at the same time, and it is a very popular method of analysis.
If you really want get a handle on trading multiple time frames, read up on Looking At The Big Picture Using Multiple Time Frame Analysis
That's a wrap for " How To Calculate Risk Reward Ratio Without Blowing Your Forex Trading Account. " Calculating risk to reward is a breeze so long as you have a grasp of how the fundamentals of risk to reward ratio work.
Wanna download the
However,  make sure you access the risk reward ratio of every trade you intend to enter in prior to entering your trade.  Regardless of the tool you you use to  do your calculation,  You absolutely have to do your due diligence or you will get your fingers burnt severely.  Next time we'll look at  Part II.
Til next time take care.
Open Live  Forex Trading Account
If you're looking to open a live trading account sign up with Exness