Hello and welcome to another episode  of the bulls versus the bears. Last time we learnt How To Place Stop losses The Right Way. This week we are going to learn how to place  wide stop losses. According to some people wide stop losses are absolutely crucial  for long trade or high probability trade  success. So if you're allergic to tight stop losses on day trades, then wide stop losses on long trades could be it for you.
Stop loss placement has been the cause of considerable hair pulling for a lot of traders. They just don't know how to utilize it. You see, you don't just put your favorite trading strategy out there and hope for the best. Where you place your stop loss is just as important as where you place your trades on the price charts. The sad aspect of this confusion is that many traders resort to setting tight air sucking stop losses on their trades.  This is the result of lack of understanding on the whole stop loss process. And obviously their limited understanding of   trading issues such as position sizing and  risk reward ratios, proper stop loss placement and , you guessed it, wide stops.
So  here is what we are going to do. we are going to clear up all this confusion around placing stop losses.  I'm going to make a case for why Wide stops are beneficial for your forex trading success. Hopefully you would have learnt how to correctly place stop losses and not pull your hair in frustration this time around(if you have any hair left at all). Even more importantly, you would have understood how to leave your emotions out of the stop loss placement process and not place the stops too tight that your stops end up getting obliterated by the market.
I guess the main  question is
Why Should I Place Wider Stops?
Very simple. Give the market room to breathe.You should know by now that the forex market pretty much has a mind of its own. It can turn on you without a moment's notice. Knowing this, you should factor this revelation in your decision making as far as deciding where you want to place your stop losses. You just can't place your stop loss anywhere and hope for the best. You're just wishing for the stars here and that is not good trading strategy. That is a recipe for disaster.
You need to give the market room to go through its routine everyday.  How do you do that? Pull up a tool on your meta 4 platform called Average True Range(ATR) for short).The ATR gives you a daily blow by blow update on the daily range movement over a period of time. The ATR basically measures the distance between previous highs and lows  within a specific time frame. You  get a graphic showing the forex market's current state of volatility.  This crucial information should help you decide where to place your wide stops.
To activate the ATR on   the MT4 platform  go to <Insert> and then select Average True Range. Upon selecting the the Average True Range, default setting of 14 days will be attached to your chart. You are free to adjust the number of days if you so choose.
How do you adjust the number of days? Drag the cursor to the bottom of your price chart and then  select<ATR(14) properties. This brings up a popup window as shown below.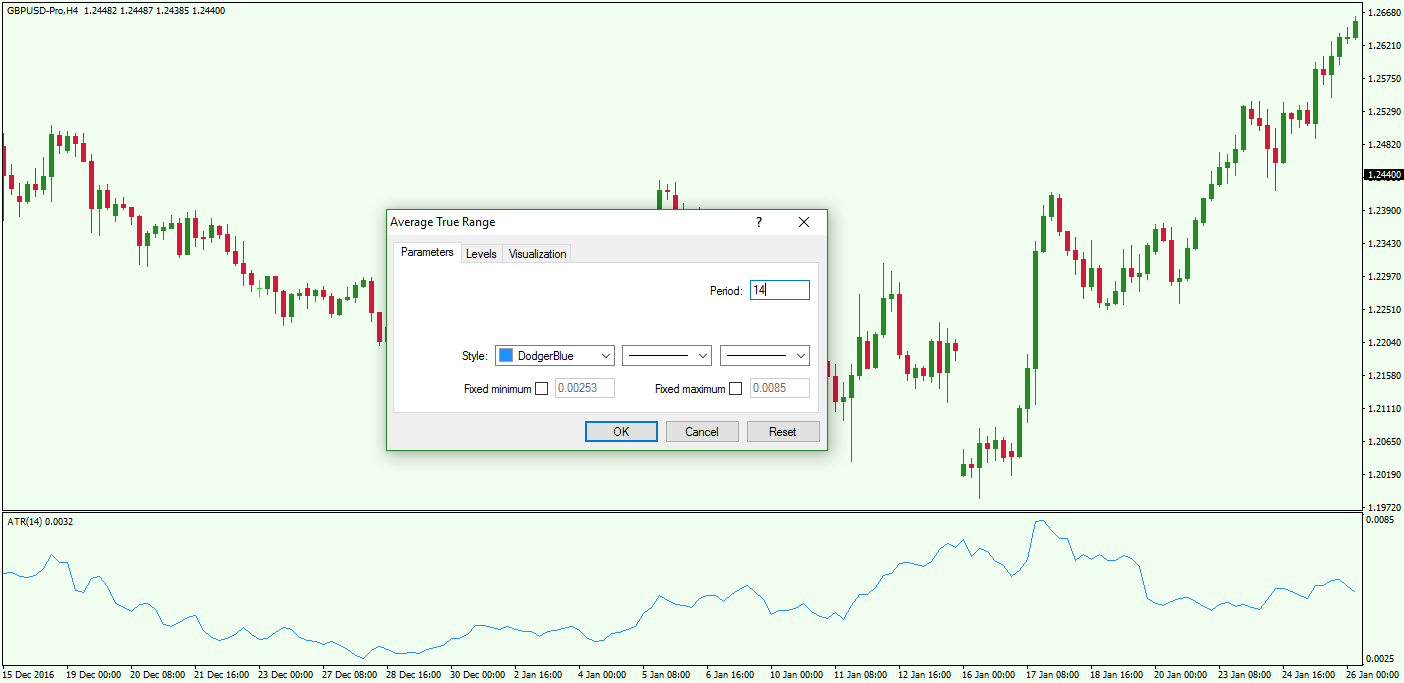 Then under <Parameters> tab you should see a field named "Tab" Just changed the"14″ setting to your preferred setting. The new settings will be applied automatically . If you want to know how to use the Metatrader platform check out Metatrader 4 Part 1 and Metatrader Part II
Now let's take  a look at another  EUR/USD graphic with the ATR in action.
As you can see the graphic below the price action shows the ATR reading of  the market's daily range . The daily reading here is 150 pips.Make sure your wide stop is near or bigger than the ATR reading, Anything less could cause a nuclear-sized  hole in your trading account.  Next image please.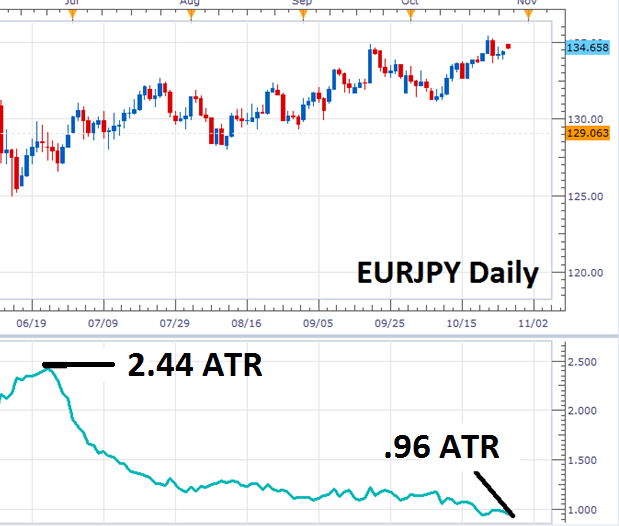 Here is the EUR/JPY volatility reading within the past 14 days.  As yo can see the 2.44 reading suggests the market's high volatility and the .96 reading  reflects the market's low volatility.. Now based on that information, the stop loss is placed at the 1.29  mark. Just  make sure our stop loss is at least half of the ATR'S volatility reading. In so doing, you don't run the risk of incurring a humongous loss on your trading position.
Let's say the EUR/USD moves 100 pips over a period of days. Why would you want to insert a 50 pip stop loss.For the life of me I don't get this logic. But some traders, for reasons best known to themselves  contrive to commit this mistake. But then again you have to consider factors such as time frame and price action setup as well as the prevailing market structure.
Wide Stops Allow Long Trades Time To Play Out
The nice thing about employing wide stops is that they allow long trades time to play out. Big trades usually take days or weeks to unfold. If you think you can use 50 pip stop loss to catch a 300 pip surge, forget it. Let's   look at illustrations of a tight stop loss and a wide stop loss,
Right before our eyes is a tight  stop loss at the support level at the 1.13300 mark. Like I intimated earlier, the problem   with such a tight stop loss option is that you don't give your trading position enough room to find itself. And in  such a scenario, your tight stop loss is more than likely to be blown off the water together with your trading position.  And as you can see the stop loss has been totally stumped and the bulls are heading for the mountains.Now you see why you're better going wide with your wide  stop loss?
Speaking of which, let's take a look at  wide stop loss in its pomp.
Now here is  a wide stop using the EUR/USD  in price action. Now as you can see the wide stop loss was placed a good 25 pips from the entry position at the 1.08500 mark. This is a very smart move.   Why? Because it keeps you   in the trade, giving you the opportunity to make a decent profit. Not to mention the fact that it gives your trade  more room to breathe.  Get your stop loss too close and you put a noose round your trade's neck.
Wide Stop Losses Give  You Trading Peace of Mind
If there is one thing traders value over everything is trading peace of mind. And wide losses gives you a whole  lot of peace of mind. They're even more effective when trading higher time frames,  especially using the set and forget strategy. You don't need to sit in front of your screen all day waiting for the market to approach your stops.
Instead you focus all your energies on finding the best trades available. And you can also identify trends and  common price action patterns – Things that really matter. So if you really want your trading peace of mind  to be at ease, here is a simple formula for you:Set your wide stops and tweak your position size to reflect your risk per trade;Nothing much to it.
That's a wrap for "Wide Stop Losses Absolutely Crucial For High Probability Trade Success". Too many forex traders lose their money to over-trading and tight stop losses so tight even a needle will  have a hard time getting through. They don't allow their trades room to maneuver.  And when you insert tight stop losses, your stop losses get stumped.
Unfortunately a lot of forex traders do not heed this advise. They rather tempt fate by placing a tiny stop loss on a trade that could play for weeks and bring in a huge profit in the process. Consequently their lack of understanding of position sizing, not to mention greed send them crashing to the ground.
So instead of placing a tiny tight stop on 20 trader, how about putting wide stops on two trades that last   go on and on for weeks ?And raking in profits in the process.
Til next time take care.
Opening Of Live  Forex Trading Account
If you're looking to open a live trading account sign up with Exness.