Hello people
Last time we learnt how to download and set up the Metatrader 4 platform for price action trading. Today we are going to do  Part II The Sequel, by far the most exciting part. We are finally going to learn how to place trades on the Metatrader 4 platform for price action trading. I'm sure most of you have been fantasizing about this part all week long. No need to wait any longer the moment has finally arrived.
I know  I said the last time that the Metatrading platform 4 platform is so user-friendly that anybody can use it. But at the same some people may be so intimidated by the numerous tabs and buttons splashed across the screen on the platform. But not to worry! If you are in that category of people, I will hold your hand right through this  post so you don't fall. So onward:
How to Enter A Trade Via Market Execution
First click on "New Order" .It's right underneath the window label.
Upon selecting your order, you select  the currency pair you want to trade from the menu at the top. Just click the arrow and make your selection.
Upon making your selection, you click on the menu label "Type" and select "Market Execution"
Next you indicate the size of the position you want to buy  by clicking on the menu labelled "Volume". Keep in mind that one standard lot(1.0) is worth 100,000 units. So if you intend on buying 5,000 units select 0.5
If you have anything to say about your trade  just fill the 'Comment' column. But that's optional.
Finally decide whether you want to buy or sell the currency pair.A dialogue box will then show up to inform you that your trade has been executed.
Next Up is:
Entering  A  Trade By Way of Pending Order
Click on "New Order"
Next you choose your currency pair of choice from the topmost menu.
Your next task is ti select "Pending Order" from the menu labelled "Type"
 you  will want decide whether to buy or sel the currency pair in the order type drop down list.
Once you've made that decision, you will then be presented with 4 options:
And they are as follows:
Buy Limit – if you plan on going long at a level lower than market price
Sell Limit – if you plan on going short at a level higher than market price
Buy Stop – if you plan on going long at a level higher than market price
Sell Stop – if you plan on going short at a level lower than market price
Once you make your selection, fill in the price at which you want to make your appearance in the market.
After filling in the price, enter the size of your trading position in the volume field.
Next fill in your stop loss and take profit fields.
Keep in mind that you also have the option of setting an expiration date on your order. Better safe than sorry.
Once you have checked all the boxes,click the "Place"button to enter your trade
A dialogue box will then pop up to say "Voila! Your trade has been entered."
If you're not sure of your pending orders I suggest you read up on You Need To Protect Your Trading Position and Profits with Pending Orders
How To Modify Trades
Select "Trade" tab at the bottom of the metatrader platform.  This contains all your trades including your entry prices, position sizes, stop losses,and profit targets.
However,if you want to add/modify your trades,here is what you do:
Right click on the trade you want to modify and then select "Modify' or "Delete."
Next you fill the stop loss and take profit fields with your desired levels. And when you're done, hit the "Modify" button.
A dialogue box then pops up to tell you that"Guess what,your adjustments have been Executed."
And Finally:
How to Close Open Trades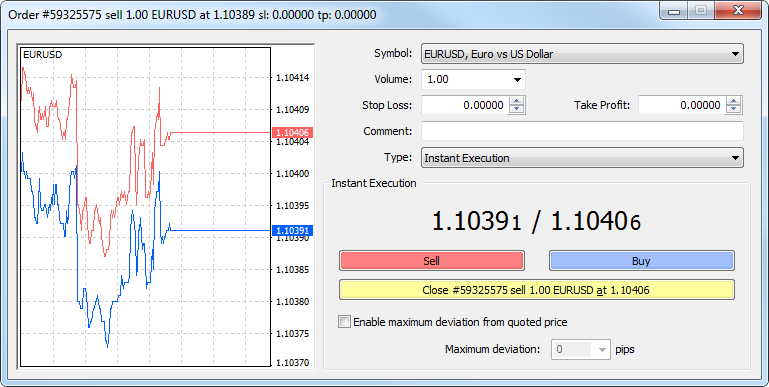 Right click the  trade that you want close
If you want to close the entire position, select the yellow button below the "Buy" and "Sell" options.
After hitting the close button, you should see a change in your profit balance, reflecting  your profit or loss you made on your closed trade.
That's  a wrap for "MetaTrader 4 The Sequel – How To Place Trades in Price Action Trading."  And sadly we've come to the end of th two part series on the Metatrader 4 platform. Yea,I know that  all good things must come to an end. but you can practice what you've learnt on a free demo account.This way, you'll be better prepared when you decide to trade live.
Til next time take care.
Open Live  Forex Trading Account 
If you're looking to open a live trading account sign up with Exness