A Long time ago we discovered What Price Action Trading Was All About. Now I want to remind you why price action trading still rocks.Maybe it's just me. But I have this gut feeling that some of you have one eye on those nasty indicators that clog your screens. I mean imagine your brains being messy! You can't think straight can you? I can foresee your brain cells screaming "Spare us all this garbage, we can't take it anymore.
So How Am I convince you doubting Thomases out there? I'll just spell out the benefits of trading from a simple straightforward chart on the chart and its ability to improve your trading  at the speed of light.
But first I'm gonna start with a question.
Why Should I Trade With Price Action Anyway?
It's very simple. The whole idea behind price action trading is to spot previous repetitive price patterns that can can give you great profits in the future.  You then use these same repetitive patterns to predict future price movements when they appear in real-time.  Once you crack the code as to how to t read price movements on the charts, you start getting a hang of how the markets rides. Before you can say jack, you  will be reading the market mind before it makes its next move.
Now what  do you need to get started? Not much. Just a simple price chart, free of those cluttering indicators to compress your screen. Once you accomplish that, you're on your way to getting started.  Now let's get this straight.You only start to taste the sweet pudding of forex trading success once you perfect trading strictly off price itself. By fixing your gaze solely on those cute candlesticks, you can make sense out of the weird mood swings of the forex market. Also trading from those naked price movements will transform into the  price chart whiz t hat you hope to become.
Now let's see the difference between a clean price chart and a cluttered price chart  littered with indicators – starting with a  clean chart
Doesn't this clean price chart  look pretty? It looks nicely dressed with clean swing highs and swings lows penetrating both support and resistance levels. With such a  clean-shaven appearance,you pretty much have an idea of where the market is going and you can make a reasonable prediction of what is going to happen next.
Now let's take a look at the  messy messy indicator-laden price chart
Ladies and gentlemen, here is the indicator-infested price chart for the USD/CHF currency pair. As you can see, this nasty looking cesspool is enough to give you a heart attack. Unlike the first price chat, you have a cluster of indicators which completely takes the focus away from the candlesticks.  Dont be surprised if you hear yourself asking yourself this question"Am I analyzing the indicators or the candlesticks?" And when that happens,that's a clear sign that you're losing your mind.
You only start to taste sweet pudding of forex trading success when you stick solely to the candlesticks. By zeroing in on the candlesticks you gain a clear insight into the workings of the forex market. And when you do trade using the raw price movements,you should become a  forex trading whiz in no time.
Price Action Trading Is As Simple ABC
Yes, I said it.Price Action Trading is as simple as ABC. You don't need a fancy  college degree to be a successful price action trader. Far from it. People have this  conception of forex trading being as complicated as the Laws of Gravity.  In fact, Even the garbage man can succeed as a forex trader. All you have to do is to  analyze price charts for what they are. Just don't overcomplicate things by trying to chew up on every factor behind the market's every move. Headache anyone?
. The neat thing about price action trading is that it's an equal opportunity profession.The simplicity of  clean-cut price charts makes it possible for anybody on this planet earth to succeed with price action trading .Whether you are a single mum or the cable man,, you got a chance at forex prosperity. The benefits of price action trading are so immense that you will surely be transformed.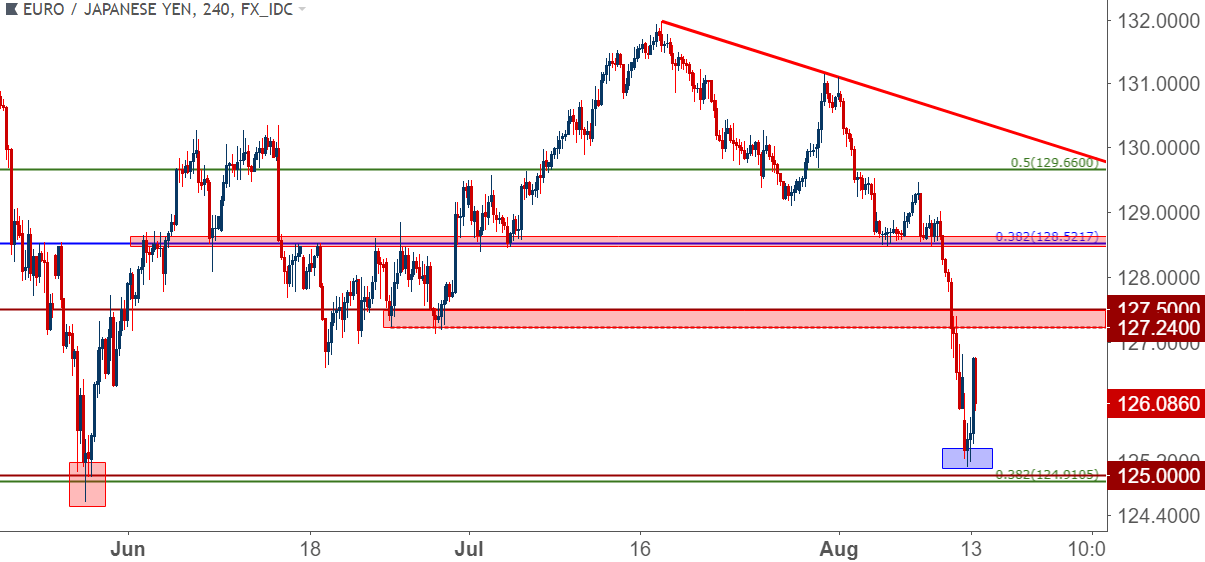 This is another illustration of just how simple and straight forward a price chart using EUR/JPY.  From the left side you see how the high lows(HL) and Lower Lows(LL) of the downtrend ? And on the right side you have the lower highs(LH) and higher(HH)  nicely spaced out without any outside interference. IT's not rocket science. All you have to do is interpret the information in front of you and then make your trading decisions based on your analysis.Just  make sure your trading edge exists before you make your entries.
If you're not sure about identifying a trend read  Trade Trends With Price Action Analysis . And if you don't know what I mean by trading edge read up on You Need To Sharpen Your Trading Edge.
Candlesticks Have All The Information You Need To Know
You don't need look at any indicators or robot software for help. The candlesticks have all the information you need to know about the goings on in the market. If you want to know where the trend is going, which way the market is going, and where the support and resistance level are,  you will find all this precious data in the candlesticks.
You don't need to look too far. In fact a lot of traders make the whole trading process look like rocket science.You feel you have to concoct some complicated formula to identify all this data.No, you don't have to. It's all right in front of you.
Let me show you a few illustrations.
Now this is a graphic for an uptrending market. And as I'm sure you know by now, uptrending markets are made up of higher highs and higher lows. These are nicely laid out on this graphic. You don't need an indicator on steroids or some robot software to tell you that.They'd just  lull you into a false sense of security.
For some of you may be thinking " This looks like a carton."  But seriously all the information that you need is in the higher highs and higher lows.You don;t need some weird indicator or a robot to do that for you.
Now let's look another illustration-this time showing  a downtrend.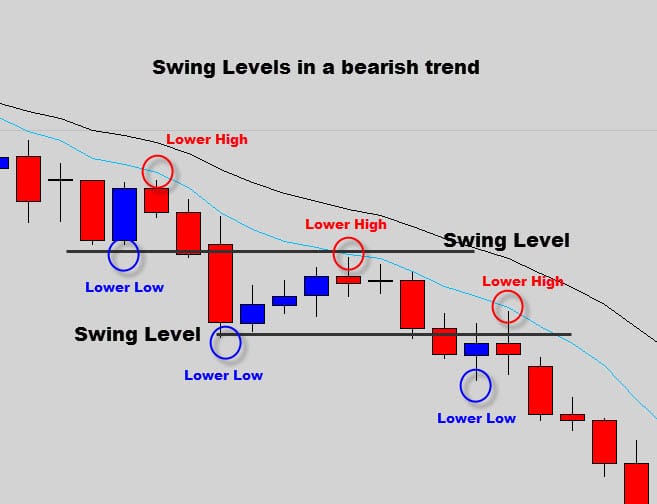 This, ladies and gentlemen  is the downtrend of the uptrend As you can see the bears are tearing the bulls to shreds here. How are the bears achieving this?By pushing the price lower through routine lower highs and lower lows.Now do you need a scary-looking indicator to tell you this? No. All the information you need about a bearish downtrend is staring you in the face.  You don't need to look any place else.
Now let's see how you can recognize a sideways market(or ranging market) without those indicators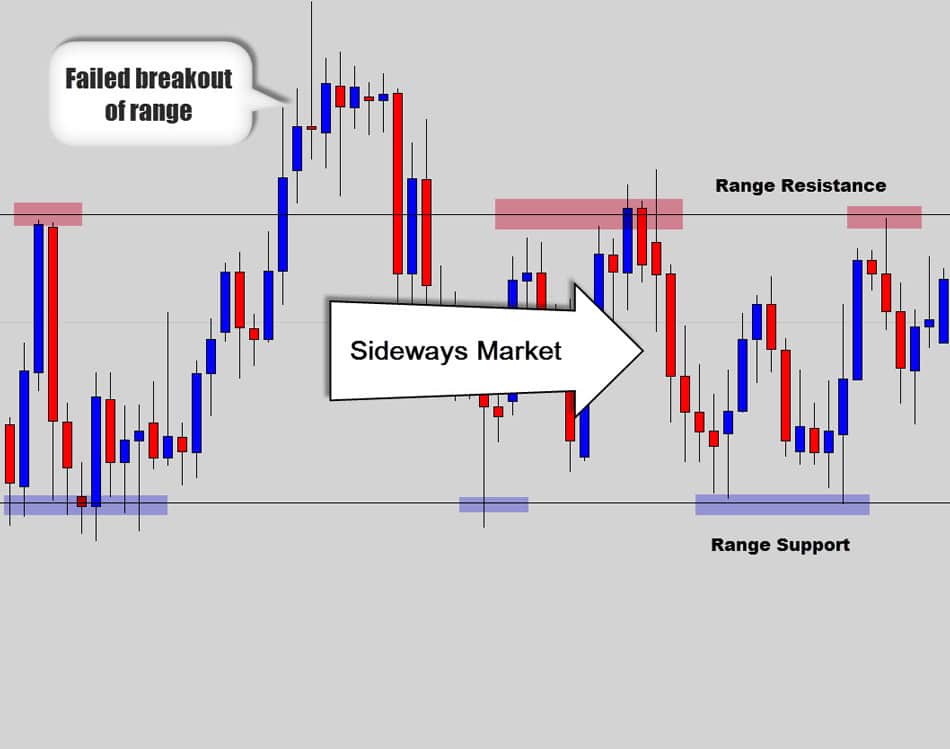 Now this what a sideways market looks like. You have both highs and low trapped in between the resistance and support levels? Why because there is a war of attrition happening between buyers and sellers.  This stalemate has also  created a period of consolidation as both sides take a breather and look to  continue once price stabilizes. Again, do you need. an indicator to reveal this information to you.?
Now if you wondering "How do I spot a ranging market?" Just look out for the big trap holding the highs and lows in between the support and resistance levels.  Now notice the bulls trying to break out of the range  up top on the chart.That happens quite a lot on the market.But they do face a brick wall and end up in the dreaded sideways trap.
Now in case you've also forgotten the sideways trap is popularly known as a fakeout.  Now for some of you who may not know, this traps traders,especially rookies into bad trading positions. They see what they believe is  hot bullish trading position only for the bears to pull a fast one on them. This is the big boys; way of trying to suck unsuspecting rookies into these tempting positions and make huge profits off their naivety.
But there is good news. The market does break out of the range and head for. And when that happens, they are a sight to behold. One more thing. When you see a sideways pattern, dont risk your money on this pattern.There is nothing available. Only when the bulls break out of the range do you make your entry on the market. Now let's see what a range breakout looks like.
Now this is what a range breakout looks like. The bulls catch fire, thanks to a solid price and head for the hills. Notice that tight trap in between the black lines. A higher low forms. triggering a mountain climb by the bulls.
By the way, if  you're not sure of what a sideways market(or sideways trend) is, read up.on on Forex Market Goes Sideways   , And if you want to to know more about fakeouts read up on Trade The Breakout
That's  a wrap for " Why Price Action Trading  Still Rocks"  I hope I've been able to convince you that those fancy indicators will not help you with your trading decisions. Only solid price action analysis will help you. Just watch the candlesticks as they speak to you about the happenings on the market. When you do that,you can never go wrong.
Til next time take care.
Open Live Trading Account
If you're looking to open a live trading account sign up with Exness.